Up until a few years ago, I thought my eyeliner game was strong. I had mastered the art of the applying the perfect line to both my top and bottom lids – even if it took me a good 10 minutes to do it.

One morning, I was running late for my son's IEP. I was up against the school district, who were trying to make a case to move him out of our local elementary school and into a special day class. It was an important meeting, and I still needed to go over some notes with my lawyer before it started. As vain as I can sometimes be, I needed the 10 minutes I usually spent applying eyeliner to get there on time, so I quickly lined my waterline instead and ran out the door.

The meeting was excruciating. Because the school district knew my reputation for not backing down, they brought their lawyer, too. During a heated discussion, I could feel myself getting really agitated. I was frustrated, angry, scared, and sad, and I could feel myself tearing up. The last thing I wanted was for them to see me weak, so I excused myself to the bathroom in an attempt to pull myself back together.

After splashing cold water on my face, I glanced in the mirror and did a double take. I was frazzled, so why did I look so calm? I was exhausted, so why did I look so awake?

The next day I did a little experiment. I lined one eye my usual way – a heavy line on both the top and bottom lid. On the other eye, I lined my waterline only.
The difference was astounding.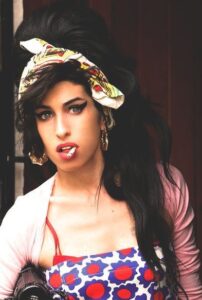 My first thought was – why is one of my eyes shrinking? The eyeliner looked like it was literally swallowing up eye. It was harsh and unnatural. And, in comparison to the other eye, it looked a little Amy Winehouse-ish.

My second eye, on the other hand, was highlighted and defined with subtle perfection. My eye looked big and open, giving me an overall look that was soft, fresh, and bright.

From that day on, my old method of applying eyeliner became a thing if the past.
◈
Lining Your Waterline 101*:

Let's start with the basics. The waterline is the inner rim where your eyelids meet your eye, the fleshy area between the base of your lashes and your actual eye.

How to apply to your waterline: I always start with my upper lid. Using your ring finger, gently lift your upper lid to expose the waterline beneath your upper lash line. Run a Q-tip gently across to dry the area slightly before applying the eyeliner. Then, simply sweep it along that area. Now you can move on to your lower waterline using the same method. This technique is also referred to as "tightlining".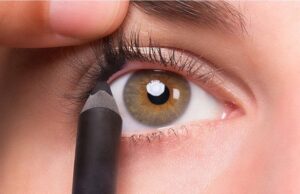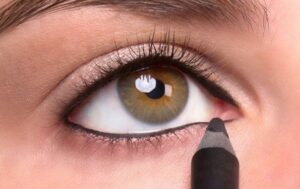 Choose your color: This one is pure preference. As I've gotten older, black seems a little harsh on me, so I usually stick with a medium chocolate brown. Gray, bronze, taupe, or even a colored liner also looks great. You can play around with colors to see what best suits you.

Choose your formula: You have two options when it comes to tightlining: pencil or gel. Again, this is a preference. For years I stuck with using a waterproof eye pencil – my favorites were Urban Decay 24/7 Glide-On Pencil and Make Up Forever Aqua XL Eye Pencil – but found that the color often disappeared before lunch. My search for something a little longer lasting led me to gel eyeliner.

What is gel eyeliner: Gel eyeliner comes in a little pot. It has a thicker formula with a creamy consistency, which makes it easy to work with. It's long wearing and doesn't smudge. It's also buildable, so you can layer it for more intensity.

How to use a gel: A gel eyeliner must be used with an eyeliner brush. Many brands come with a brush, but there's a lot of other options on the market. Just make sure the brush is small and someone pointed to ensure control of application.

A few caveats: Gel eyeliner can dry out, so be sure you twist the cap tightly to close. And, in order to avoid styes or eye infections, the liner brush should be cleaned after every use.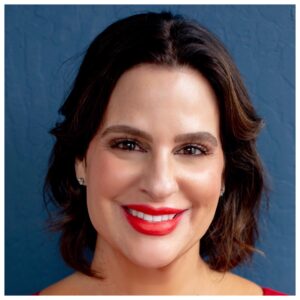 The 2 drugstore products I swear by for brighter eyes:

Maybelline Eye Studio Lasting Drama Gel Eyeliner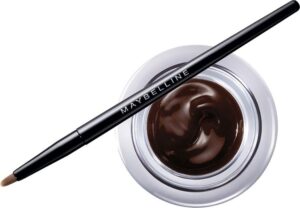 Being somewhat of a makeup snob, I'm usually drawn to high-end products. When I first discovered this makeup trick, I used the Bobbi Brown Gel Eyeliner. It was ok, but it took some work to build up enough of a line, and then often smudged.


On a Target trip one day, I saw this one while picking up makeup wipes and thought I'd give it a try. At $6 vs. the $27 that I was used to spending for a gel liner, I didn't have a lot to lose. I was pleasantly surprised with the result, and now I'm obsessed! My Bobbi Brown gel liner is now in my makeup graveyard, along with my other unloved products that go there to die (I tried to pawn it off on my 21-year old daughter, but she didn't want her eyeliner to smudge, either!).

This waterproof, gel pot liner holds highly concentrated pigments in a clear gel base, making the color intense. It's Ophthalmologist tested, and safe for both sensitive eyes and contact lens wearers. It's also highly versatile – it allows for both a thin, precise line for subtle definition and brightening, and a thicker line for more drama. Maybelline claims that it has a 24 hour wear – I don't know anyone who'd wear it for that long – but I can attest to it lasting at least up to 8. One of the biggest benefits is that it's smudge proof, so it won't mess up your eye look. How's that for eye opening!
Real Techniques Fine Liner Brush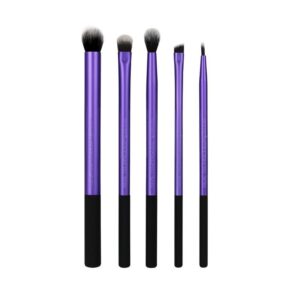 (It's the last one on the right ⇱)
While the Maybelline liner comes with a brush, I didn't love it because of its size. It's kind of a mini-brush, which makes it hard to work with.
I already had the Anastasia Beverly Hills Liner Brush and the Bobbi Brown Ultra Fine Eye Liner Brush in my collection, so I started alternating between them. They were fine, because the Maybelline product is so good, but they felt a little scratchy on my waterline when applying.
I'm a big fan of Pixiwoo on YouTube, beauty guru sisters that have their own, inexpensive line of brushes. They use mostly their own brushes in their videos, and when I saw one of them using the Fine Liner Brush with a gel liner, I was intrigued.

This 100% cruelty-free brush is the ultimate tool for the precision application of any gel eyeliner. The ultra-plush, ultra-soft synthetic bristles glide smoothly for an easy and precise line. And, the hand-cut bristles are encased in an and extended aluminum handle, so it's light, comfortable, and easy to use.

I can't find this brush as a single, but it is within the Real Techniques 5-pc. Enhanced Eye Brush Set. This set includes a shadow, crease, and shading brush, as well as the most amazing lash separator. It's worth getting just for the eyeliner brush, but you get the bonus of 4 other very useful and well-made brushes. And at $19.99, the whole set is less than you'd spend on one high-end eyeliner brush!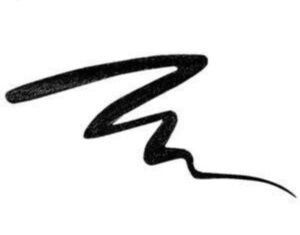 So it took an IEP to find this extremely underrated makeup trick.
The school district didn't win, btw, Teddy stayed right where he belonged.
William Shakespeare said that "eyes are the window to the soul". If that's true, let's make sure they are perfectly lined:).